Home
»
Baby
,
Baby Food
,
Baby Led Weaning
,
Breakfast
,
Cardio
,
Dinner
,
Family
,
FitFluential
,
Lunch
,
Meal Planning
,
WIAW
» WIAW
WIAW
May 2, 2012
Posted by Madeline @ Food, Fitness, and Family

under

Baby, Baby Food, Baby Led Weaning, Breakfast, Cardio, Dinner, Family, FitFluential, Lunch, Meal Planning, WIAW
It has been WAY too long since I joined in on the "What I Ate Wednesday" fun!!  I have missed it (and all of yours) a lot!  Thank you Jenn from Peas and Crayons for hosting the best blog link-up there is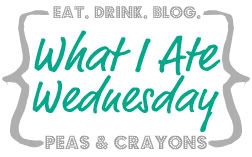 I am sharing all of yesterday's eats with you.  Tuesday was "Taco Tuesday" in our house and I apparently took it seriously since I had tacos more than once.  Hehe.
Breakfast
Breakfast Tacos.  Two eggs scrambled with spinach and some cheese.  Bacon and salsa on top.
Work Out
I took my first spin class in a long time!  I just joined a gym here in Georgia and I have to say so far I am happy.  The child care is great and Emmie seems to be doing well in it.  I am slowly trying all the classes to see which instructors I like.  The gym isn't pretty but who cares?  It gets the job done.  This was a decent 45 minute ride with 15 minutes of ab work at the end.  My legs were still pretty sore from my boot camp class yesterday so needless to say my legs and abs were feeling it
 How's that for #proof?
Lunch
Turkey Sandwich with romaine, cheese, and mustard on whole-wheat bread with organic carrots on the side. Pretty standard over here … as in I eat it 5-6 days a week haha.  Hey it's quick and delicious … two perfect adjectives a new(ish) mommy loves!
Emmie and I ran around most of the day so I was glad I had an easy dinner on our meal plan.  AND like I said it was taco Tuesday…
Dinner
Tacos.  I had mine with romaine lettuce, diced tomatoes, cheese, avocado, salsa, and Greek yogurt.  Love the fact that Greek yogurt mimics sour cream for a much better nutritional value!
Emmie's Eats
Scrambled egg yolks and plums.
Hard to see but Em went to town on ground beef, sliced tomatoes, and sliced avocado.  Girl LOVES to eat!  Baby Led Weaning has been going great so far too
 ALSO, do you notice Em's out of control hair?  It's like she has a mohawk all the time haha.
Did you link up this week?  What is one of your favorite meals you have eaten recently?