WIAW
Why hello there Wednesday … you sure came here fast.  Em and I are packing up and heading to the airport this morning to jet-set our way to Phoenix to visit my family for 10 days.  I HATE flying and am unsure if my tips for flying with a baby are going to help me now that Em is walking.  Maybe I'll learn some new ones for flying with a toddler
 Any-who, I am excited to link up with Jenn of Peas and Crayons for another edition of "What I Ate Wednesday".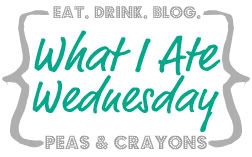 BREAKFAST
I made baked apple cinnamon oatmeal the night before so all I would have to do is heat it up in the morning for breakfast.  It was delicious.  Chris typically hates oatmeal and took some to work.  It was that good.  On the side, some pumpkin spice coffee.  Hanging on to the flavor as long as I can
WORKOUT
I did a 4 mile Fartlek workout (my first!) and a CrossFit WOD at the gym.  Seriously SPENT after these.  After my workout I had a GNC Total Lean 25 protein shake.  I love this protein SO much.  Tastes great just mixed with water so I can immediately drink it on my way home from the gym.
LUNCH
I snacked on some cantaloupe while I made Emmie's lunch and got her fed.  After I put her down for a nap I heated up some Pacific Santa Fe Chicken Style soup for lunch.  With a little cheese and crumbled tortilla chips on top it hit the spot.  Something about warm soup on a brisk day warms my soul
SNACKS
I whipped up some of Gina's Amazeballs and added in raisins, chocolate protein powder, and a few chocolate chips.  These babies are GOOD.  I also shared a green juice with Em (Read: she stole it).  In it was apple, pear, spinach, and celery.  At least girl likes her green juice as much as I do?  Cheers for a healthy tot.
DINNER
Dinner was blackened salmon and roasted veggies.  Unpictured is the bowl of cereal I ate before bed.
I am pretty happy that I actually remembered to take photos of (almost) everything I ate this week.  WOO!  Hope you all have a fantastic day and I'll catch you from the Valley of the Sun
Like what you see?  Make sure to subscribe to my feed!  I would love to hear from you on Facebook or Twitter!  Need a daily dose of Emmalyne?  Find us on Instagram!