WIAW
Happy Wednesday friends!  Hope your week is going swimmingly.  The temperatures are finally starting to climb back up here in Arizona and I am stoked.  I didn't come to Phoenix for freezing
 I am also excited to say I have been keeping on track with my eats while I have been here.  Since it's Wednesday, I even get to share them with you!  Thanks Jenn for hosting another What I Ate Wednesday!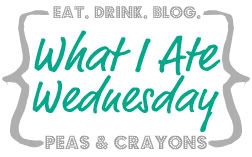 BREAKFAST
My favorite Van's waffles with peanut butter and real maple syrup.  Fresh fruit on the side.
LUNCH
We were out running errands so my mom, Emmie, and I stopped at Pita Jungle for lunch.  Mom and I shared the tomato basil soup and a Mediterranean roasted chicken pita and Emmalyne had hummus, pita, broccoli, and fruit.
SNACK
I found the Chobani bites at the local Target.  I got the caramel and pineapple chunks and am hooked.  It's like a dessert.  A 100-calorie, natural ingredient dessert.  It was amazing.
DINNER
My mom got a cold, chicken pasta salad from Pita Jungle to bring home for all of our dinner tonight.  It was tasty and fresh.
On a fun note … Emmalyne had her first hair cut yesterday.  Randi cuts my mom's and sister's hair and mine too when I am in town.  She even did my hair for my wedding.  It was only fitting that she be the one to cut Em's the first time.  I also got my hair cut which I realized was the first time since I was home last fall.  OOPS.
Back to the grind today!  We only have three more days in Phoenix and we plan to make the most of them
**Today is the last day that the Active by Old Navy line of workout clothes is on sale for up to 40% off!  Check out my review here and don't miss your chance to get some awesome new clothes at wicked good prices.
Like what you see?  Make sure to subscribe to my feed!  I would love to hear from you on Facebook or Twitter!  Need a daily dose of Emmalyne?  Find us on Instagram!