WIAW
Is it just me or does the Tuesday after a 3-day weekend feel like the worst Monday ever??  I just couldn't get things together until after lunch yesterday haha.  First, I forgot my cami to go under my v-neck shirt so I had to wear my sweaty gym tank top.  Next, the lady I was meeting on post was 15 minutes late.  And so and so forth.  It just made me laugh
 BUT today is now Wednesday which means the week is already halfway over … score!  And it means that it's time for another What I Ate Wednesday with Jenn of Peas and Crayons glory.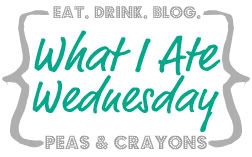 I made this baked apple cinnamon oatmeal the night before knowing that Em and I had an early morning ahead of us yesterday.  A few seconds in the microwave and breakfast was served!  A perfectly healthy and filling way to get ready for the day.
Lunch was one of my favorites – a buffalo chicken salad.  I mix some buffalo sauce into ranch dressing and it is fantastic.  Seriously a fav.
OOO looky … I remembered my snacks again
 I made a batch of homemade trail mix for Chris and I over the weekend so a handful or two was consumed throughout the day.  In it is peanuts, sunflower seeds, pumpkin seeds, raisins, pineapple, and some M&Ms.  I also made a red juice with my new juicer!  More on that soon
 But the juice was beet, grapefruit, carrot, and apple.  The beet made it pretty earthy … the taste was still good but something I will kind of have to get used to.  I felt great and full of energy after it though!
I had dinner ready to go early so that I could eat before heading out to book club.  I made lasagna rolls with whole wheat noodles, light ricotta, and spinach.  A small salad on the side and an ice cold glass of milk.
Now … I have said it before and here it is again: I try to eat clean(ish) 80% of the time and then have fun with the other 20%.  I think true healthy living is finding a balance between the kale and the buffalo wings with an emphasis on the kale
 I work hard and eat well throughout the week so I can have some guilt-free fun in an attempt to find that balance.  Last night was a night of indulgence and fun.  Last night was my monthly book club that Victoria invited me to join when I first moved to Savannah.  Our book club is sometimes more wine than reading but it is a good time always.  Last night we went to Frames'N'Games in Pooler for some bowling and laser tag.
Yup … a few nachos, potato skins, and mozzarella sticks joined the beer.  Don't worry, it wasn't all for me
 Victoria rocked out and won bowling but I burned some calories and whooped booty in laser tag.  If anyone says laser tag isn't a workout is a liar.
There you have it.  A healthy day of eats followed by a fun night of indulgence.  And I am 100% satisfied with how it went
Do you follow the 80/20 rule?  What are your favorite things in the 20%?  Mine are buffalo wings and good beer.
Like what you see?  Make sure to subscribe to my feed!  I would love to hear from you on Facebook or Twitter!  Need a daily dose of Emmalyne?  Find us on Instagram!