Vacation Eats {WIAW}
Good morning friends!  Em and I are officially back in Georgia!  We had a long day of travel yesterday but Em was amazing and a trooper and we got home to Chris with minimal tears.  We "slept in" this morning due to the 3-hour time change.  I got up at 8AM (5AM AZ time) and I just got E out of bed at 9.  We have a busy day of unpacking, laundry, and cleaning up the house but will hopefully be heading to the gym shortly.  I thought I would share some of my eats from vacation … I mean it's WIAW after all
BREAKFAST
I'm lucky that my mom stocks up on our favorite foods before we come into town so eating relatively normal is easy.  I had a breakfast sandwich on whole-wheat English muffin, scrambled egg, and Applegate bacon with fresh fruit multiple mornings.  Another day I was CRAVING French toast so mom took us to our favorite local breakfast place, Scramble, for French toast, rosemary potatoes, scrambled eggs, and sourdough toast.  NOM.
SNACKS
FINALLY found blackberry Chobani and goodness was it worth the wait!  Now I MUST find it in Georgia.  It was at Target in Phoenix so I will be checking there this weekend.  Also had tuna salad on crackers, Larabars, and lots of peaches.
LUNCH
A couple trips to Paradise Bakery (west coast Panera) for tuna sandwiches and Greek salads.  I also met one of my sorority sisters at Maizie's Cafe in Phoenix for a delicious tuna sandwich and amazing fries.  No trip to Phoenix is complete with a trip to Macayo's for lunch and I did get my beloved bean and cheese burrito with chips and salsa.  For days that we were home (which was most), we made Applegate turkey sandwiches with fruit.
DINNER
Family dinners were a regular occurrence over the week I was home.  We had BBQ chicken sandwiches with watermelon, salads, and fries.  Another night was lasagna and salad.  Our last night was take-out from Babbo's Italian Eatery.
Pretty sure I packed on some pregnancy pounds these last 10 days and I have zero guilt about it.  I had great food with even better people and a perfect trip.  While I am so glad to be home, in my own bed, and getting back to our normal routine, I miss my family fiercely already.  Thanks Jenn for hosting!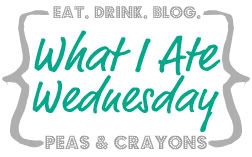 Do you have special restaurants you like to visit when you're on vacation or visiting home?
Like what you see?  Make sure to follow with Bloglovin'!  I would love to hear from you on Facebook or Twitter!  Need a daily dose of Emmalyne?  Find us on Instagram!