WIAW
WOO!! It's Hump Day! Is it just me or does this week seem to be zooming by? I can't believe we are already halfway through the week. Really, more for us since tomorrow is Chris' Friday
Since it's Wednesday, it's time to share another What I Ate Wednesday with you guys! Thanks Jennfor hosting.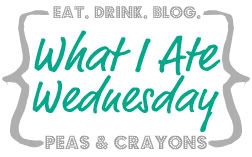 BREAKFAST
Same as last week!  I had 1/2 cup oats, 1 cup water, 1 T flax, 1 T chia seeds, and 1 T GNC Chocolate Peanut Butter Total Lean Protein Powder.  Some peanut butter and chocolate chips on the top … stirred in for melted awesomeness.  Fresh fruit and iced half-caf coffee on the side.  See the pretty flowers?  My mom and step-dad sent them to me as congrats for getting into PA school.  I love them
LUNCH
An awesome salad beast.  We made homemade Chipotle bowls the other night and had some leftover steak that Chris graciously let me keep for my salad.  In the salad: spinach, romaine, tomatoes, cucumber, carrots, mushrooms, broccoli, feta, and red pepper hummus.  Some balsamic vinaigrette to top it off.  I think I got my veggies in for the day!
SNACKS
The Larabar was my post-gym snack before heading to the grocery store.  Never, ever, ever enter a grocery store while hungry AND pregnant.  I learned that the hard way before haha.  I am seriously in love with the coconut Chobani yogurt with some cereal on top.  A banana with PB topped things off.  Not going to lie … a few mini cinnamon rolls made the cut too
DINNER
Whole wheat spaghetti with turkey sausage, spinach, tomatoes, marinara sauce, and soem parmesan.  This is one of Chris' favorite dinners especially for his lunch leftovers.
Ended my night with a cup of pregnancy tea!  I've gotten a couple questions about what tea I am drinking and it's the Traditional Medicinals organic pregnancy tea.
I have a fun filled day of the gym, chores, and laundry.  I know you're jealous
 Have a great day friends!
Like what you see?  Make sure to follow with Bloglovin'!  I would love to hear from you on Facebook or Twitter!  Need a daily dose of Emmalyne?  Find us on Instagram!