WIAW
Happy Wednesday folks!  Today is a "to-do" list filled day as we leave on vacation tomorrow.  We are heading west to Las Vegas because Chris' grandmother is in town from KOREA!  We are super excited to introduce Emmalyne to her great-grandmother and get to spend time with our family.  After Vegas, Chris is heading hom and the Emster and I are making our way to Phoenix for a week with my family.  This is probably my last trip home before Jellybean joins the picture and PA school starts and chaos ensues, so I am looking forward to it!  Just some of the things on my list:
Gym
Grocery Store
Clean House
Do Laundry
Pack
Finish up some work
But since it's Wednesday, it's time for another "What I Ate Wednesday" with the lovely Jenn of Peas and Crayons!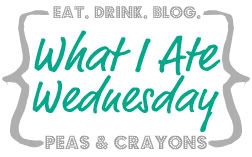 I love a big breakfast! This was homemade waffles with PB and real maple syrup, eggs, Applegate bacon, and fruit. A delicious iced half-caf coffee on the side.
A turkey sandwich on whole-wheat bread with spinach and mustard and a salad full of romaine, spinach, carrots, mushrooms, and tomatoes on the side!
A juicy and delicious Georgia peach in the afternoon. Seriously – the peaches down here are unreal! More fresh veggies and homemade ranch dip. Unpictured: Larabar in the morning, a few small Publix chocolate chip cookies, and probably something else.
DINNER
Dinner was SUPPOSED to be salmon and roasted veggies but the salmon didn't turn out that great so Chris picked up pizza on his way home. I am not complaining because I LOVE pizza. Wondering if my pregnant brain sabotaged dinner on purpose?
OK … I am off to conquer my list! Hope your Wednesday is a great one!
Like what you see?  Make sure to follow with Bloglovin'!  I would love to hear from you on Facebook or Twitter!  Need a daily dose of Emmalyne?  Find us on Instagram!