WIAW
YES!! It's Wednesday!  Not only is the week half-over, today is also the day we get Internet back in our house.  I have had to go to Kroger, McDonalds, and Panera to get my work done since Thursday.  Fun times …. NOT.  I am totes ready for the repairman to fix this ish.  Any-who … with it being Wednesday, it's time for another What I Ate Wednesday a la iPhone!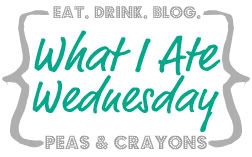 BREAKFAST
Scrambled eggs and egg whites, organic Applegate low-sodim bacon, fruit, and buckwheat pancakes.  Seriously NOM this weekend over here!
LUNCH
A working lunch at Panera … Greek salad with no onions and a turkey and artichoke panini.  I may or may not have had a cherry pastry too
DINNER
Organic chicken, apple, and chardonay sausages, roasted potatoes, and grilled corn on the cob.
I didn't picture my snacks but you better believe that being 6.5 months pregnant I ate MUCH more than what is pictured
 OK – I am off!  Hoping to get to the gym before I get stuck waiting for the Internet man to come
Like what you see?  Make sure to follow with Bloglovin'!  I would love to hear from you on Facebook or Twitter!  Need a daily dose of Emmalyne?  Find us on Instagram!