WIAW
Happy Wednesday friends!  Hope your week is going great so far.  I've been running on empty in the afternoons this week which is no surprise now that I am in the third trimester.  It's funny because baby puts on SO much weight during these last few weeks and I am definitely starting to feel it.  If I don't get my workout in in the morning it just won't happen so I have been trying to be diligent.  On top of that I have been making some of our moving check-lists as well as things for the baby and Em's big girl room.  Just been a tad busy
 Anyway … it's time for another What I Ate Wednesday with Jenn!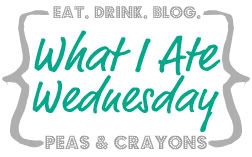 BREAKFAST
I made a batch of pumpkin baked oatmeal on Sunday as part of my weekly food prep.  This is just as good as my apple cinnamon baked oatmeal!  I will be sharing the recipe with you guys soon.  I paired it with fresh fruit and iced coffee.
SNACKS
I've been loving Brittany's Lara balls and made a fresh batch this last weekend.  They are a perfect post-workout snack!  I also had a banana and a PB & J sandwich.  Some Ruffles snuck their way in later too
LUNCH
Lunch was a simple turkey and ham sandwich with mustard, American cheese, and spinach.  A nice pickle on the side and some more Ruffles chips.
DINNER
I'm starting to make my list of freezer meals to make to prep for Baby B and tried Iowa Girl Eats' sneaky meatball subs last night.  Chris and I both agree that they are a winner!  Definitely adding them to the list
What is your favorite freezer-friendly healthy dinner recipe?? I need more in my arsenal
Like what you see?  Make sure to follow with Bloglovin'!  I would love to hear from you on Facebook or Twitter!  Need a daily dose of Emmalyne?  Find us on Instagram!