WIAW
Happy Wednesday friends!  Another week is halfway done!  This week has been a little trying on me but I will be sharing more about that with you guys tomorrow.  Let's say I am looking forward to the weekend and some parenting relief
 Since it's Wednesday it's time to link up with Jenn of Peas and Crayons for another What I Ate Wednesday!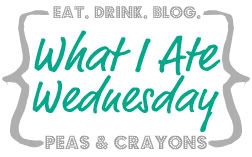 BREAKFAST
I tried coconut flour pumpkin pancakes and felt meh about them.  I am going to try a whole-wheat version because I honestly wasn't digging the coconut flour.  Another reason I am not going to be paleo any time soon?  On the side was some pumpkin spice coffee with pumpkin spice creamer – I am REALLY getting into this fall thing – and fresh fruit.
SNACKS
After working out I had 3 homemade Lara-balls.  Later in the afternoon was a banana with PB and some celery and carrots.
LUNCH
Sometimes a preggo just NEEDS pizza and that was me yesterday.  Luckily we have a pretty awesome local pizza place that does it by the slice for lunch.  Need satisfied
DINNER
Dinner was turkey meatloaf muffins and a medley of roasted veggies: mushrooms, zucchini, butternut squash, and sweet potatoes!
I actually have a lot to do today as I didn't get much accomplished yesterday at all.  I blame it on a little nap evader.  Hope you have a great Wednesday!
Like what you see?  Make sure to follow with Bloglovin'!  I would love to hear from you on Facebook or Twitter!  Need a daily dose of Emmalyne?  Find us on Instagram!