WIAW
Happy Wednesday!  This week is flying by …. we close on the house a WEEK from tomorrow!  EEK.  I have a ton to do to get ready for that … IE: start packing.  I also have quite the to-do list to get ready for Emmalyne's birthday party this weekend.  Life is better busy right?  My food as a result has been a little lackluster.  Combine crazy days with a husband working late most nights and pregnancy exhaustion and you'll get simplicity.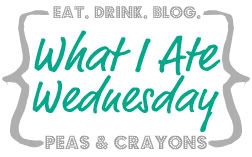 BREAKFAST
Whole wheat waffles with PB and maple syrup.  I have been digging the sweets lately.  Definitely needed more protein and a little less carbs.  Hot coffee has made its way back into my life.  I enjoyed a cup of pumpkin spice coffee with pumpkin spice creamer on the side.
SNACKS
Only managed to snap a pic of my honeycrisp apple.  Side note: I am SO excited they are back in season but my wallet is not.  WHY must they be so expensive?!  I also have some Lara-balls, carrots, and a pumpkin spice donut.
LUNCH
An EVOL chicken and cilantro burrito with some cheese on top, fresh guacamole, and salsa.  Like I said, keeping it simple.
DINNER
I made Brittany's slow cooker pot roast which turned out to be absolute perfection.  It was the perfect comfort food for Chris when he finally got home last night around 8PM.  It took me less than 10 minutes to make.  A win all around.
Well that's all I got.  Sticking to my meal plan for the week and chugging right along!  Have a great Wednesday peeps.
Like what you see?  Make sure to follow with Bloglovin'!  I would love to hear from you on Facebook or Twitter!  Need a daily dose of Emmalyne?  Find us on Instagram!