WIAW: Local Eats
Hey hey hey  …. it's Wednesday!  I had to think about it for a second to figure out what day of the week it was.  Ever since Chris started leave I have had a hard time keeping track of the days!  We are enjoying our never-ending weekend over here
 The other awesome thing?  My mom comes TOMORROW.  As of 7PM Thursday night Miss B is welcome to make her appearance whenever she deems fit.  Since it's Wednesday though it's time to link up with the lovely Jenn of Peas and Crayons for another WIAW!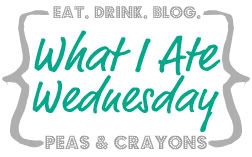 BREAKFAST
I've been digging breakfast sandwiches lately.  This one was eggs+egg whites with some bacon and cheese on a whole wheat English muffin.  Delicious cantaloupe on the side.
LUNCH
I am WAY addicted to the crab cake sandwich from Bubba's Bistro right now.  I can't get enough of it.  Since Emmalyne was in school yesterday Chris and I took advantage of some alone time and had a lunch date.  While I LOVE having Em with us it was nice to quietly enjoy a meal together.
Our next door neighbors brought us over a steak and potato pie from British Pie Company as a "welcome to the neighborhood" gift.  This pie was unreal and I now have a go-to meal to pick up when company is in town.  It was so savory and delicious.  The British Pie Co is an authentic British bakery and I feel like I can vouch for it!  After looking over the menu there were a lot of things I recognize from my trip to Great Britain.  I can't wait to try their other offerings.
DESSERT
A sea salt caramel and a dark chocolate buckeye from our local chocolate shop All Things Chocolate.  The store is within minutes of my house and is trouble.  Luckily they are moving a few more minutes down the road soon so the temptation won't be quite so convenient to give in to.
That's all I got for you guys today!  If you missed it, yesterday I shared what meals I made to stock my freezer for Baby B's arrival.  Today I have a chiropractor appointment in the morning and then it's time to buckle down and get ready for Mimi to get here!
Like what you see?  Make sure to follow with Bloglovin'!  I would love to hear from you on Facebook or Twitter!  Need a daily dose of Emmalyne?  Find us on Instagram!