Category:
Dessert
Oh hello there middle of the week … fancy seeing you already.  Happy Wednesday!  You guys …. my legs are SO SORE from my workout at D1 Sports Training on Monday.  Yesterday morning I felt great.  Then I went for a run and realized that my calves, hamstrings, and gluteus were all sore.  As the day progressed it got worse.  And today is awful.  Time for a date with my foam roller
Since it's Wednesday, it means it's time for another "What I Ate Wednesday" with the lovely Jenn of Peas and Crayons!  I did a MUCH better job photographing some snacks.  These are my eats from yesterday and I got everything except lunch … oops.  One of these weeks I will remember everything and not feel like a tool haha.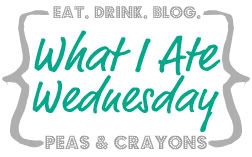 BREAKFAST
1 egg+ egg whites scrambled with spinach and nutritional yeast, shared with Emmie.  I also had a piece of nitrite free bacon, a Vans power protein waffle with PB, and half a grapefruit.  Seriously delicious.
WORK-OUT
I did a treadmill workout from Julie and loved it.  I did the gradual increase in speed workout.  It was a good mix of incline walking and running.  The inclines are what told me that my legs were killed from the day before.  I toughed through it and I am glad I did!  I followed this up with 20 minutes of weights following Tamara's upper body boot camp.
SNACKS

WORK-OUT #2
I met my new friend Alex at J.F. Gregory park to take our kids walking.  We did 3 miles in 54 minutes bringing my total miles for the day to 6.7.  After walking we hit up the farmer's market for our weekly produce.
DINNER
I had book club with Victoria last night to talk about books 2 and 3 of The Fifty Shades of Grey series.  LOVE those books.  Literary genius?  No.  Seriously entertaining?  Yes.  (On that note … mom and friends, I don't want to know if you read them).  Our amazing hostess Jessica put together this amazing spread.  Chicken in mushroom and cream sauce, roasted potatoes, salad, croissants stuffed with cream cheese, chives, and bacon, and a chocolate chip cookie cheesecake dessert.  YUM.
I seriously think I will be stretching out my legs for the rest of the morning today.  Haha.  The workout #proof is in the DOMS right?  
 Have a happy day!
Have you read Fifty Shades of Grey?  I have to admit … it made me pretty uncomfortable at times.
There are some days where I just want to indulge in a decadent and tasty dessert.  While I aim to eat clean 80% of the time, I try to make the most of my 20% of fun.  When Maria visited a couple of weeks ago we knew we wanted to make puppy chow.  When I was at the grocery store shopping for our ingredients I saw the Dark Chocolate Dreams peanut butter and it hit me … what would be make puppy chow even better?  Making it triple-chocolaty of course!
 What came to be is easily my new favorite dessert.  Ever.  I already loved puppy chow but this seriously takes it to another level.  Even Chris, who barely likes chocolate, gave it two thumbs up.  I made it for a BBQ we went to last weekend and instantly made some new friends.  It was that good
The best part?  It takes less than 10 minutes to make.  However, unless you have insane self-control do not make this on a whim.  You might eat the whole 9 cups by yourself.  Save it for an event where you can share the love.