Category:
Snack
It's been awhile since I linked up with Brittany's Munchkin Meals.  Mainly because I just forget about taking pictures until it's too late.  Now I know it is going to be the 1st Thursday every month so I can (hopefully) plan better
This month is all about the challenges we face feeding our kiddos.  I consider myself super lucky up until this point, and am knocking on wood, because Emmie hasn't really rejected any foods.  She is a great eater and is happiest with food in front of her.
While Emmalyne makes it pretty easy and eats the balanced meals I put in front of her, one of the biggest challenges I have faced is the issue of snacks.  You see,  Emmie is a Cheerio fiend.  As in heaven help you if you try to take away her Cheerio cup.  She has a vice grip on it and you literally have to peel her tiny cute fingers off the handle.  Chaos ensues and my her tears are shed.
So, here are some of the snacks I have been trying to incorporate more into her diet:
Cheerios (duh)
Mandarin oranges (baby drugs)
Apple slices
Banana and peanut butter sandwiches
Cheese sticks
Pretzels
Mum Mums
Annie's Organic Bunnies
AND that's where I draw a blank.  SO, what are YOUR favorite snacks for your toddler?  Emmalyne has 2 top teeth and 4 bottom teeth. No molars.  Help this mama out and don't forget to link up with Munchkin Meals
Oh hello there middle of the week … fancy seeing you already.  Happy Wednesday!  You guys …. my legs are SO SORE from my workout at D1 Sports Training on Monday.  Yesterday morning I felt great.  Then I went for a run and realized that my calves, hamstrings, and gluteus were all sore.  As the day progressed it got worse.  And today is awful.  Time for a date with my foam roller
Since it's Wednesday, it means it's time for another "What I Ate Wednesday" with the lovely Jenn of Peas and Crayons!  I did a MUCH better job photographing some snacks.  These are my eats from yesterday and I got everything except lunch … oops.  One of these weeks I will remember everything and not feel like a tool haha.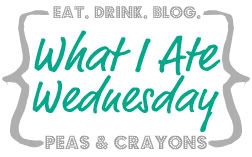 BREAKFAST
1 egg+ egg whites scrambled with spinach and nutritional yeast, shared with Emmie.  I also had a piece of nitrite free bacon, a Vans power protein waffle with PB, and half a grapefruit.  Seriously delicious.
WORK-OUT
I did a treadmill workout from Julie and loved it.  I did the gradual increase in speed workout.  It was a good mix of incline walking and running.  The inclines are what told me that my legs were killed from the day before.  I toughed through it and I am glad I did!  I followed this up with 20 minutes of weights following Tamara's upper body boot camp.
SNACKS

WORK-OUT #2
I met my new friend Alex at J.F. Gregory park to take our kids walking.  We did 3 miles in 54 minutes bringing my total miles for the day to 6.7.  After walking we hit up the farmer's market for our weekly produce.
DINNER
I had book club with Victoria last night to talk about books 2 and 3 of The Fifty Shades of Grey series.  LOVE those books.  Literary genius?  No.  Seriously entertaining?  Yes.  (On that note … mom and friends, I don't want to know if you read them).  Our amazing hostess Jessica put together this amazing spread.  Chicken in mushroom and cream sauce, roasted potatoes, salad, croissants stuffed with cream cheese, chives, and bacon, and a chocolate chip cookie cheesecake dessert.  YUM.
I seriously think I will be stretching out my legs for the rest of the morning today.  Haha.  The workout #proof is in the DOMS right?  :)  Have a happy day!
Have you read Fifty Shades of Grey?  I have to admit … it made me pretty uncomfortable at times.