Category:
Snack
This post is sponsored by Blue Diamond Almonds. For more Game Changing Snacks, visit Blue Diamond Almonds on Facebook, Twitter and Instagram.
Is anyone else sad that football season is about to come to a close?  While I am hugely disappointed that my Packers didn't make it to the big game I am still excited to watch it since it's being played at my home!  While I enjoy watching games throughout the season I have to admit … I do it mainly for the food –  #NoShame.   However I have to admit that most of the time my choices are less than stellar.  So when Blue Diamond offered me the chance to team up for healthier game day snacks you KNOW I was all over it.
Blue Diamond sent me two new-to-me flavors to try.  I am OBSESSED with the smokehouse.  In fact, I am thinking it would be the perfect addition to my beloved BBQ chicken salads.  The wasabi & soy sauce would be an excellent combination for an almond-crusted fish.  When it comes to healthy snacking though, these nuts are a great option to have on hand!

Almonds are full of amazing nutrients, are an excellent source of protein, and are a fantastic healthy fat to include in your diet.  Not to mention they are heart healthy!  Almonds are my "go to" throughout the day when I need a pick-me-up and they make a regular appearance as my driving home from school snack.  Therefore, having them for the big game sounds like a great idea!
In the meantime I am planning our recipes for our game day.  Here are a few other ones I am thinking about making to go with our Blue Diamond almonds.
Zucchini Pizza Bites / Buffalo Cauliflower / Skinny Buffalo Dip /
Skinny Queso Dip / Sweet Potato & Avocado Bites 
What are your favorite healthy snacks for game day?
Like what you see?  Make sure to follow with Bloglovin'!  I would love to hear from you on Facebook or Twitter!  Need a daily dose of Emmalyne?  Find us on Instagram!
Is it just me or is this week flying by?!  I think it's because I have a ton going on?  I have a midterm in my Microbiology class tomorrow and I have been using every single spare moment to study … so if I disappear tomorrow you know why
 It's been awhile since I linked up with the lovely Jenn of Peas and Crayons for "What I Ate Wednesday" and I am pretty excited to be back!  Woo!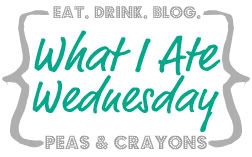 BREAKFAST
A Rudy's organic whole-wheat with flax English muffin, scrambled eggs, and peaches The perfect way to start the day!
RUN
Emmie and I did a 4.5 mile run through the neighborhood and boy was it humbling! It has been awhile since I pushed her any distance by myself and I definitely felt it.
LUNCH
I made a salad with chicken, tomatoes, 1 slice of bacon, a little cheese, and buffalo ranch dressing. Healthiest salad ever? No. Delicious salad? Absolutely.
SNACKS
My snacks weren't the healthiest choices either but they also weren't the worst. I had a pumpkin cookie (or two), some Popchips, and ended the night with some Yogi detox tea.
DINNER
Beef and Guinness stew with a puff pastry. I am trying to force it to be fall here. Is it working yet??

Thanks Jenn for hosting another week of this fabulous party! Make sure to check everyone's links out
What's your favorite fall food?
Like what you see?  Make sure to subscribe to my feed!  I would love to hear from you on Facebook or Twitter!  Need a daily dose of Emmalyne?  Find us on Instagram!