Category:
WIAW
Being a second time mom is a funny thing.  Yesterday I dropped Emmalyne off at school and it was just Bryn and me all day long.  It was the easiest day ever!  When I had brought Emmie home from the hospital I felt pretty in control but still overwhelmed.  I was always "busy" with her during the day and it was hard to eat, shower, or do whatever.  This time?  Not so much.  I made Em and I breakfast and nursed Bryn.  I also managed to get both kids in the car and Em to school on time.  Throughout the day I got everything done I had hoped to while still interacting with my sweet baby.  Oh the glory of being an experienced mom
 Since I did manage a full day of eats, I thought I would share them for What I Ate Wednesday!  Don't forget to link up with Jenn!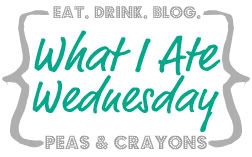 BREAKFAST
A pretty standard for me breakfast – scrambled eggs with cheese and bacon on a whole wheat English muffin and fresh fruit.  A big cup of coffee on the side.
SNACK
Didn't get all my snacks pictured but I did munch on homemade trail mix in the morning,  I had some cheese and crackers in the afternoon and a couple of chocolate chip cookies my mom made before she left.
LUNCH
One of my favorite grab and go options – an EVOL chicken burrito!  Lots of smashed avocado on the side.
DINNER
I have REALLY good friends who offered to bring me a couple of dinners.  Last night Leslie Ann brought over this delicious feast.  Pork loin, veggies, salad, brown rice, and croissants.  Got to love it
DESSERT
My mom also made this cranberry cake for our last dinner together on Monday.  Chris and I are enjoying the leftovers and had a slice while snuggling Em on the couch last night before bath time.
Overall I feel pretty good about my eats.  There is definitely some "cleaning up" to do in this area when I start trying to lose the last few pounds of pregnancy weight.  I was cleared to start working out after a visit to the OB Monday as long as I ease back into things.  SO – I am hoping over the next week or so I start working on getting back into shape.
Happy Wednesday friends!  I'll be back tomorrow sharing how I am recovering from baby
Like what you see?  Make sure to follow with Bloglovin'!  I would love to hear from you on Facebook or Twitter!  Need a daily dose of Emmalyne?  Find us on Instagram!
Happy Wednesday!  Another week is half-way through.  I'm not going to lie though – my eating habits lately have been pretty rotten.  I don't know why but I have been craving high-fat foods and letting my body have them.  And I am not talking about the healthy fats haha.  I am thinking that Baby B is bulking up which is causing the cravings for calorie-dense foods.  Since my pregnancy weight gain has been on the lower end I honestly don't have a problem giving in but I am trying to sneak in some healthy eats too.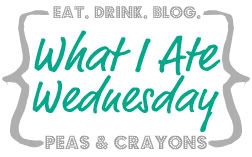 BREAKFAST
Breakfast was apple cinnamon baked oatmeal with 1/2 cup of pumpkin mixed in.  Delicious!  Also a ton of fresh fruit and pumpkin spice coffee on the side.
LUNCH
Sometimes a girl just needs some pizza bites
SNACKS
I had a Larabar after the gym and a banana when I got home while lunch was cooking.  In the afternoon I snuck in a green juice (at least until Em stole half) which included: kale, spinach, romaine, cucumber, celery, and apple.  Some chips made their way into my stomach as well.
DINNER
I made Brittany's slow cooker pot roast but messed up my timing and it wasn't ready on time.  OOPS.  By the time it was ready I wasn't feeling well and went to bed.  Emmie and I will be eating it for dinner tonight though!
Like what you see?  Make sure to follow with Bloglovin'!  I would love to hear from you on Facebook or Twitter!  Need a daily dose of Emmalyne?  Find us on Instagram!